CALYX Press would like to thank the readers who contributed to the selection of poetry and prose in Vol. 28-1:
Kathy Brisker, Fatemah Fakhraie, Diane Fellows, Kate Gray, Nazifa Islam, Carole Kalk, Sally Parish, Shelley Peters, and Erin Popelka.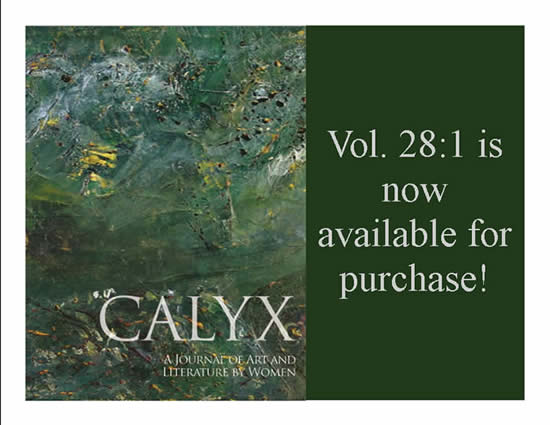 Lois Prize Winners!
13th Annual Lois Cranston Memorial Poetry Prize
-- (Editor's Note): The author of "Chattel Is" was originally listed as Nicole Otter instead of Nancy Clarke Otter. We regret the mistake.
WINNER
------------------------------------------------------
"Rise Up"
by Nicole Rollender
We picked through tiny bones scattered in the oldest part of the cemetery,
delicate bird skulls, and are these horse teeth? You kneeled, placing a branch
on a mother's grave. A spirit free in the trees, flying over an old cow.
And a heart somewhere, cleaving. But the living go on: A woman peels apples
calmly, in morning light. Or, later, she dozes by a window, snow dripping off eaves.
I remember our walks in boneyards at twilight, when you'd say we don't survive
on bread alone. We all share the same love that turns to grief. It's been a giving
and a letting go, what I can't yet say unspooling out into air. From bed you gave
me the recipe for dying well – humming through night pain, praying to St. Joseph
for a happy passing, resting sea shells on your chest, placing honey on your tongue.
I planned to place silver coins on your closed eyes when the next world called you,
sure currency. You said your suffering (bone, bone on fire) would wing you surely
into happy afterlife. Now I knead bread because it's a way of being useful, a way
of resisting. Are you floating in a clear-bottomed boat over me, in an eternal dream
of light and glass? Distance from God means absence of stars, a nun notes in her breviary.
What if, one more time, I could take your arm and we could stroll between graves?
Here's yours, I'd say. I lie down on the dirt over your body: You'd close my eyes.
You'd wash my face. There are many ways to love: I can name the last things you
touched. Illumine your face, brave with suffering. All these stones, washed clean
and clean again by tumbling waters. Yes, there are also many ways to die, sword
on neck bone. Body in fire. The death inside of you opened, enfolding your heart,
a bruised flower fruiting. You wanted me to learn how to pray, so I could repair
my shattered spine, the bombed-out cathedral inside of me, the loss of you who
now travels with the winds. I imagine you'll be homesick for all the things
that will come after you, so I'll gather them, loaves and fishes, in baskets.
I don't want to know what lies ahead. At the end or our lives, all paths lead here:
We have nowhere else to go, so we step out of the body and scatter, hoping
we won't be turned away.
Nicole Rollender's work has been published in The Adroit Journal, Alaska Quarterly Review, Best New Poets 2014, Creative Nonfiction, Ruminate Magazine, PANK, Salt Hill Journal and THRUSH Poetry Journal. She's the winner of the 2012 Princemere Poetry Prize, as well as the 2012 Janet B. McCabe Poetry Prize. Her chapbook Arrangement of Desire was published by Pudding House Publications. She serves as media director for Minerva Rising Literary Magazine and editor of Stitches Magazine.
Runner-Up
------------------------------------------------------
"The Hazelnut"
by Claire Wahmanholm
It is all that is made
Julian of Norwich
My being sick came slowly, spun its threads
through the needle holes of my pores,
tapestried my blood with lack, with ailing,
with such thick patterning I thought
my heart would clot beyond untangling,
beyond a blunt cutting of the thread.
After long paths of years that wound around
my bed, dragging bad dreams, I somehow rose
clean as a whistle, as a hound's tooth, unmarked,
though I could feel burls aching in spots
along my bones, sharp but so little
that I hoped they would fall into nothingness.
But they kept. The hurt had shrunk to the size
of an empty spool, a hazelnut, was small enough
to be housed in it, but hard. The hurt took
my heart's spot and the hazelnut took root,
filled the empty lanes that had shuttled sickness
and bound them greenly to each other.
The hazelnut was all there was, a tight sea,
a clod of stars, a puff of iron, and all there was
was heavy in the palm of my chest.
And I felt together, my many was wholed,
the world was an unbroken body, was well,
was something to rest in, was held.
Claire Wahmanholm is a PhD student at the University of Utah, where she co-edits Quarterly West. Her work has most recently been featured in or is forthcoming from, Third Coast, Waxwing, Sugared Water, BODY, The Cincinnati Review, Poetry Northwest, 32 Poems, and Rattle, and has been featured on Verse Daily. She lives in Salt Lake City.
Runner-Up
------------------------------------------------------
"Chattel Is"
by Nancy Clarke Otter
beingbody
of other body
bodself
hen cow ox pig
egg milk strength meat
just two things
chattel
body of work
just two things I
hands wrists fingers used
arms shoulders
breathing chest and back I
strong legs steady feet
sea island cotton from seed to bale
fifty four separate jobs body of work I
day I
night I
eyes ears
breasts feed
womb wombfactory I make more hands
mouth I
tongue I
voice
Sing he says and I sing
Just two things I can decide:
I can refuse to live;
I can refuse to die.
Nancy Clarke Otter teaches English and humanities at a public magnet school in Hartford, CT. She recently completed an MFA at Goddard College. Her poems have been published in the Wallace Stevens Journal, Earth's Daughters, Naugatuck River Review, and Blue Collar Review. This spring, she won first place in the Connecticut Poetry Society Competition.
Runner-Up
------------------------------------------------------
"Flour Bluff, Texas"
by Robin Carstensen
Home was near and the night was settled
until the Jack Russell appeared
dead in my headlights in the middle
of Purdue Road, and the eyes of three
mourners who were crouched on the sidewalk
peered into my lights like glowing autumn
leaves. The car rolled over the gravel
into the empty driveway, the porch light
was not on, the house stood in its half primed,
half robin's egg paint, and the dark blue
sky pressed down. I wasn't on the freeway,
not out of town, could not go further,
could not move on. The car door opened
and the foot could not lift. The night was
flat, and the mind was a feather, was wind.
Beneath the dark blue sky, one could sit
under the weight and weightlessness,
take a large drink of it, feel it enter cool
and warm in each breath until the body moved
or the body gave in or the body was given,
until the door opened or the door shut
and the hand turned the key, and the car
backed over the gravel, past the dandelion
the lawnmower had missed by the mailbox.
The huddle had disappeared and the terrier
still lay intact on the gray road. He was bigger
up close. He was warm and heavy in my arms.
A boy rode up in a small bicycle. Up close,
he was almost a young man. He had a black
plastic trash bag. "He's a little heavy,"
I said as he opened it. "She" said the boy.
"Her name is Allie." "Do you want to say
a little something" came words
from my mouth as we fumbled
and laid her in the bag. "I've already said it,"
the boy was clear. The bag hung low
over his bike handle, and he leaned to one side.
"She's too heavy, let me take her in my car."
He struggled. "I've got her." "Are you sure?
It's no trouble." He carried her to the car,
lifted her to me, as I shoved over the sprawl
of papers and unopened mail, lay her
on the backseat. I followed him
to his house along the trundle
of brick and pier and beam homes.
She was still warm and heavy in our arms,
beneath his thank you, my take care,
and our bewildered breath—invisible strands
of fur, like seeds from dandelion florets,
their delicate silver chutes floating
in the steady midnight October blue.
Robin Carstensen's poetry has been featured in Connotation Press, The Southern Humanities Review, the Georgetown Review, Terrain.org: a Journal of the Built and Natural Environments, and many others. She is an assistant professor of English at Texas A&M University-Corpus Christi, where she teaches creative writing.
Judge
------------------------------------------------------
Maxine Scates is the author of three books of poetry: Undone (New Issues 2011), Black Loam (Cherry Grove), and Toluca Street (Pittsburgh). She is also co-editor, with David Trinidad, of Holding Our Own: The Selected Poems of Ann Stanford (Copper Canyon). She lives in Eugene, OR.
JOIN US!
New Release

Summer Journal Vol. 27:2

Mrs. Vargas and the Dead Naturalist

by Kathleen Alcalá

now available as an eBook
CALYX, Inc. P.O. Box B Corvallis, OR 97339 info@calyxpress.org 541.753.9384
Home Subscribe Mission Internships