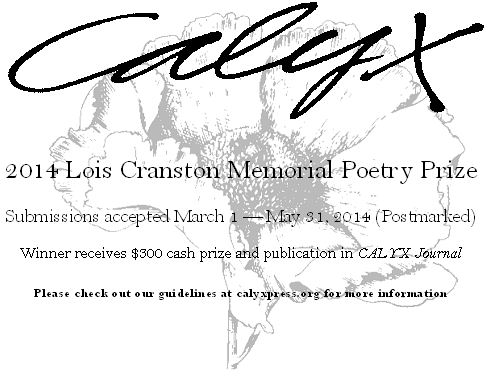 CALYX is now accepting poetry submissions for the Lois Cranston Memorial Prize!
Congratulations to the Winner of the Lois Cranston Memorial Prize!
This Year's Winner: Mercedes O'Leary, "Crane Woman"
Honorable Mentions: Nancy Keating, "The Grammar of Mass Murder"; Roberta Haas George, "Low Point"; Dorothy Blackcrow Mack, "Believe in the Ocean"
This Year's Judge: Penelope Scambly Schott
Read the Winning Entries Below!
-----------------------------------------------------------
The Winner
Crane Woman
Mercedes O'Leary
1.
Consider the crane nesting in the field, sleeping, waking,
watching the neighbor dogs stalk too close: see her long
leg rise, her wings open wide: this is no invitation. Feather
arms batter, beak hammers. Run dogs run, she will hunt
you home, and what will you do if your master
does not answer?
2.
I am lost dreaming about the woman
waking in a field of dead grass, wings pressed
against her body, unfamiliar, not a bright paper bird,
but lithe and wrathful: watch her full body
rise on alder legs and chase down the man-child
throwing wet stones, he barely makes it back
to his fallen porch, he can feel her wings
slap the air behind his back.
If an angel knew earthly rage, she would be
this crane spectacle.
3.
I'm drinking coffee alone on my couch, when she
comes and knocks: woman, crane, hermit, angel
knocks naked, knocked up her belly round
like the moon. I do not let her in; I stare down
at my black coffee as if I'm searching for stars.
I will her away, never offer a shirt or a blanket.
She belongs in the wilds, in the field, in the sky,
not in this house.
-----------------------------------------------------------
Honorable Mentions
The Grammar of Mass Murder
Nancy Keating
How do you go bad exactly –is it like an apple gone bad, or mild, or bad breath, or bad vibes? Are your chakras out of balance, or you stopped listening to the Lord? When good girls go bad, they meet bad people. They do bad things with bad people. And the bad people do bad things to them, things not in the manual. They make you dress up and undress and you really don't want to know what all. And money's always involved, but you never really see it, not for long, maybe a purse, maybe some shoes, then it's gone and you got to go get more. When good girls go bad, more than one go bad, go missing, get bad shit going on. Bad food had nights bad trips bad times with the cops. Choking. Bullets. Bone-crushing grips. Twisting wrists, hitting, pet abuse, mind games. Bad nights in bad places out in the middle of nowhere in the rain, just you and the bad man, a bad time altogether. And when your life goes from good to not so good to really not good at all, straight down the crapper into bad all the time, then you're in with the bad people and you're all shooting and snorting and crashing and grifting from everybody, and your stuff goes missing and you need to get it out of hock from your boyfriend, who isn't much of a boyfriend but he does know how to hit you real good and love you a little later just when you were trying to get out of the life, but you do need him, at least you need your I.D., which he's got, so you say just one more go-round with this. And you put your shit up on Craiglist and set up time and place and some jerk sets a meet-up with you and that's the last anybody's heard from you for two years now, and your family's been hounding the cops to find you. And some of the good people go, "She got what she deserved," and others of the good ones go, "She may have done a few bad things, but she was a good girl deep down." And deep down is where he put you, and now you're just a burlap bag of bones. You and your three sisters: four bags of bones. "Good girls gone bad"—no kidding.
------------------------
Low Point
Roberta Haas George
When my father went to prison, he drove the Cadillac,
with my mother, my sisters, and me, down to Jasper, Fl.,
at nine o'clock at night, in the dark, to turn himself in,
with new t-shirts and shorts still in the plastic
as required by law.
When my father went to prison, CSI in Tallahassee,
I went every Thursday, to sit with him and others
and one lonely guard
in a large room at orange tables
bolted to the floor. We ate lunch,
crackers and coffee,
bought from machines.
When my father went to prison,
we visited from 12 to 5, the "family hours."
We talked of the glorious and inglorious past,
and played cards, an Arabic gin game,
called "Low Point," for a dollar a match,
We owed thousands.
When my father went to prison, I learned all his history,
the things one person can cram in a lifetime:
farming the white sand of north Florida,
then working VA hospital jobs, selling Bibles door to door,
finally raising pot with my sisters.
We never went hungry.
When my father went to prison, he was sixty, I was forty;
he spoke German from his immigrant parents
and Spanish from the Border Patrol.
He taught GED classes and knew all the verses
to "Strawberry Roan." We sang them together,
first softly and then louder as the
room fell silent.
------------------------
Believe in the Ocean
Dorothy Blackcrow Mack
Even the upper end of the river
Believe in the ocean
William Stafford
I believe in the ocean.
What's not to believe?
150 yards below my door,
horizon high as wainscoting
around an endless room of sky.
When you go down to the beach
the ocean's at eye-level, tame
even with tidal surge and spume,
but if you climb to the top of
Cape Foulweather, the sea rises
higher and higher with each step.
My sister-in-law Agatha Tall Mandan
came from the South Dakota plains
to see if the ocean her brother
sailed on for 29 years was real.
When I drove her over the last hill
on Route 20 down into Newport
she grabbed the car door handle,
hung on for fear of drowning.
Forget about sneaker waves,
neap tides and tsunamis. That huge
wall of water ahead, right here in
Newport, rose up to swallow her.
We'd call her naïve, uneducated.
But I say she believes in the ocean.
-----------------------------------------------------------
Judge
Penelope Scambly Schott received the 2008 Oregon Book Award for Poetry for her collection of poems entitled A Is for Anne: Mistress Hutchison Disturbs the Commonwealth. She has published three poetry narratives, four collections and five chapbooks. Her work has received many awards including the Hopwood Award and the Poetry Society of America Prize. She received her PhD in late Medieval English literature from City University in New York.
-----------------------------------------------------------
Contributors
Mercedes O'Leary is a graduate of the New England College MFA program in Poetry. Her work in the fields of domestic violence and child abuse informs her poems. She also works as an editor of an online poetry journal, and has been published in the Great River Review.
Roberta Haas George served at the Lowndes/Valdosta Arts Commission as Executive Director for 12 years, doing everything from painting walls to writing grants. Her poems and short stories have won prizes in the Porter Fleming LIterary Competition and Berry College, The New Guard, and The Southern Poetry Review. Her novel, Baptizing the Cat, was published in 2012.
Dorothy Blackcrow Mack has published more than fifty published poems and took First Place Poetry at PNWC. "Wind Cave II: Time of Emergence" was nominated for a Pushcart Prize. Her chapbook, Anuk-Ite: Double-Face Woman, Turnstone Press (2012) was a finalist in two poetry contests. She directs Willamette Writers Coast Branch, and is also a Board Member of Writers on the Edge, Oregon Poetry Association and Poets Concord.
JOIN US!
New Release

Summer Journal Vol. 27:2

Mrs. Vargas and the Dead Naturalist

by Kathleen Alcalá

now available as an eBook
CALYX, Inc. P.O. Box B Corvallis, OR 97339 info@calyxpress.org 541.753.9384
Home Subscribe Mission Internships