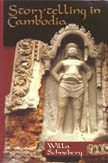 Storytelling in Cambodia
by Willa Schneberg
This moving, rich cycle of linked poems journeys from Cambodia's ancient mythic times to the killing fields and to the U.N. presence during Cambodia's first free elections. It bears witness to the plight of the Cambodian people and to all who have endured holocausts. The reader viscerally experiences the sweet-sour tastes both of jungle fruits and of blackened, dead potato patches; the sights and sounds of the bombed Cambodian countryside and of its fecund cities – as well as the humanity of others and ourselves.
Storytelling in Cambodia includes an introduction by the celebrated Cambodian poet U Sam Ouer (author of Sacred Vows) and his translator, the poet Ken McCullough, who worked together previously on Ouer's memoir Crossing Three Wildernesses (Coffee House Press).
Reviews:
"Willa Schneberg takes the reader on an extraordinary journey—from the Ramayana and Angkor Wat to the terrors of Pol Pot—encountering along the way Buddhist pacifism and the divine warrior, André Malraux and Tricky Dick and Kent State, among a host of characters. Her Cambodia is a world and she's gotten deep within its skin. This is rich rewarding poetry, a compassionate, visionary response to a very real world." —Sam Hamill
"In Storytelling in Cambodia Willa Schneberg writes a searing account of one of the darkest moments in modern history. Schneberg's haunting verse testimony, her portraits of those who dragged a once peaceful country into the nightmare of genocide, her passionate homage to an ancient civilization now irrevocably lost move the reader even as they horrify." —Carolyn Forché
"Willa Schneberg is a poet who boldly faces evil and has the courage to express her reactions in art and testimony. The wisdom underpinning her poems is fully earned. We need more such poets who are not deterred from writing about global issues by those who have neither the concern nor the courage to do so themselves. This book will be controversial because it is out of step with the dominant aesthetic of our time, which elevates triviality to exalted ennui. Her elegy for Pol Pot catches the banality of evil as few writers have attempted." —David Ray, author of The Death of Sardanapalus and Other Poems of the Iraq Wars
"The poems in Storytelling in Cambodia record with sensual mindful detail a journey that is as geographically exotic and far-flung as it is spiritually profound. Ms. Schneberg combines first hand witness with Hindu myth to make poems which are by turns brutally documentary and lyrically elegiac, setting Cambodia's recent tragic history against the backdrop of its ancient past. This is a first book for grown-ups, written by a mature, even wise, human being." —Peg Boyers
"Storytelling in Cambodia bears witness, in poem after poem, to the rawness of remembered passion. Willa Schneberg's poems about Cambodia, where she worked in the early 1990s for the UN, beautifully convey the sensuousness, excitement, and uncertainty of a peculiar, tumultuous time. All of her poems take us with her as she catches often painful experiences in her hands like water from a tap and then transforms them, with transcendent skill, into creations that shimmer in the heat."
—David P. Chandler

Winner of over 11 poetry awards, Willa Schneberg has been described as a "bright new seer." Her second collection of poetry, In the Margins of the World (Plain View Press), was awarded the 2002 Oregon Book Award for Poetry. She is also a ceramic sculptor and photographer whose work has been widely exhibited. She works as a private-practice clinical social worker and was a U.N. volunteer from 1992 to 1993.